Oxenden or Oxendon?
One of the data sets released by Ordnance Survey as part of the recent OS OpenData release was OS Locator, which is a gazetteer that basically lists the name of every road in the country along with a bounding box for it.
ITO World have now made use of that data to do a comparison with OpenStreetMap and produce a set of tiles which can be overlaid on OpenStreetMap to highlight roads in OS Locator which do not appear to be in OpenStreetMap – that doesn't always mean the road is missing, or even missing a name – sometimes it just means we don't agree on what the name is!
A case in point is a road near me called Oxenden Drive. At least that is what OpenStreetMap thinks it is called – the OS Locator data calls it Oxendon Drive instead as shown in this show of OpenStreetMap with the ITO World overlay: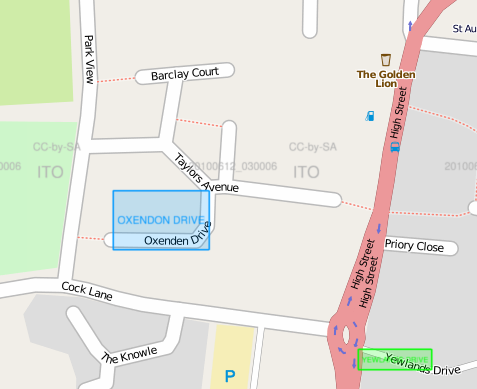 So today I paid a visit to recheck the name on the signs and sure enough, the signs agree with OpenStreetMap and say Oxenden Drive.
The Hertfordshire County Council Gazetteer seems to agree with Ordnance Survey (Oxendon) while Royal Mail's address database comes down on the side of Oxenden.
At the end of all that I've decided to leave it as it is, as Oxenden Drive, but who knows what the real answer is…